Are you starting to plan your holidays yet? Summer is coming and there's no time to lose to find the perfect holiday destination! Although there are plenty of places you can stay in, BungalowsClub brings you some of the best Spanish destinations having a swimming pool to take a bath.
Some accommodations with swimming pool
Girona always deserves more than one visit. Bungalows Neptuno is the accommodation which offers the most suitable swimming pool to spend a few amazing days. It is located in the Costa Brava, surrounded by pine trees. Nearby you will find the beach of Pals and the medieval town. It also has a children's play area for our kids and a spa to unwind.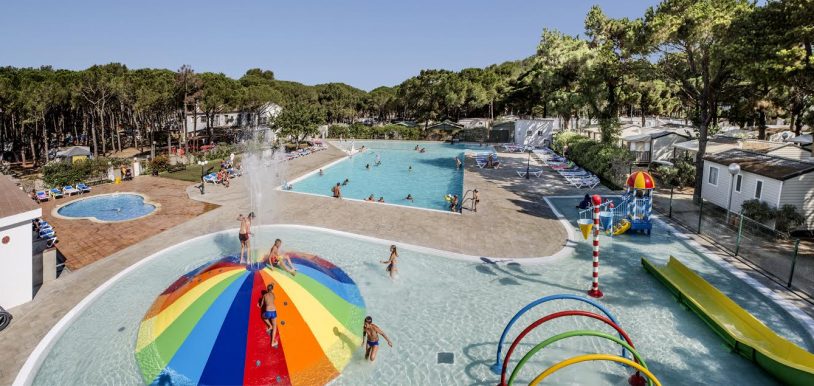 In the region of Huesca, Bungalows Bellavista is located very close to the beautiful Barasona's reservoir. It is the perfect accommodation for those who want to combine swimming pool, nature, tranquility and comfort. In addition, from this establishment we can take a bath not only in its swimming pool but in its private beach. There is also a bike path to the beautiful town of Graus.
Other accommodations to enjoy a good bath
In Madrid we can stay in Bungalows Piscis. It is located in the Sierra Norte of Madrid, surrounded by a green oaks and junipers forest. It is the perfect place to discover the breathtaking natural landscapes of Madrid. It has a swimming pool to scape from summer heat. The accomodation also offers swimming and animation courses for children. This area is also perfect for practicing sports.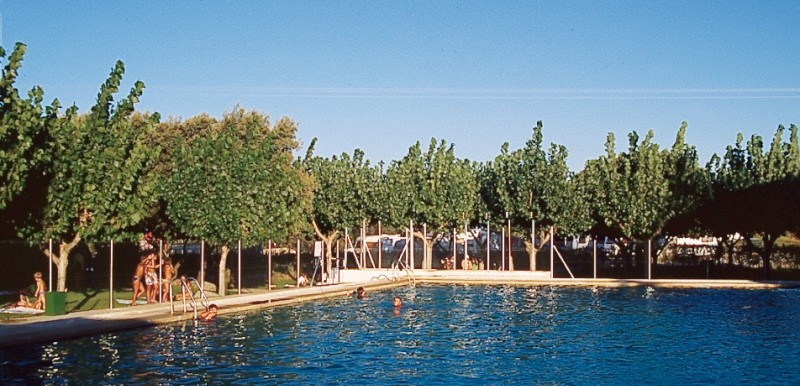 In Alicante, one of the most visited coastal zones in summer, we can find Bungalows Arena Blanca. There, you can enjoy its heated swimming pool the whole year. The lodging is only 23 kilometers from Levante's beach and it is less than an hour from Mundomar and Acualandia's water parks. In addition, it is only 13 minutes by car from Terra Mítica's thematic park. Alicante is the perfect destination if you want to enjoy some days in family!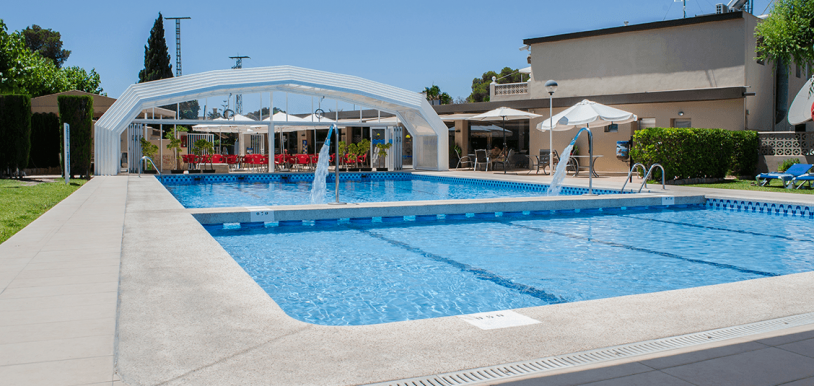 Bungalows with swimming pool in the South
If you prefer going to the south, there are several highly recommended possibilities. In Bungalows La Rosaleda, in the Province of Cadiz, you cannot only take a bath in its awesome swimming pool, but only visit the Pueblos Blancos, a group of picturesque villages that will definitely impress you!  If you prefer to see Cordoba, we recommend you Bungalows Carlos III.
In Almeria, Sol de Taberno is waiting for you. This establishment offers a set of rural apartments as good as the most prestigious hotels.
If Jaen is attracting your attention, you should visit Bungalows Puente de las Herrerías. It is surrounded by the Nature reserve of the Sierra de Cazorla. The river Segura and the towns there will make you be definitely much more relaxed.
If you want to know more establishments offering a swimming pool in Spain, do not hesitate to check BungalowsClub. We are looking forward to helping you making your next holidays unforgettable.
Image Credits: Bungalows Neptuno, Bungalows Bellavista, Bungalows Arena Blanca