Luckily, romantic getaways don't have to always be planned around Valentine's Day. If you are looking for a romantic destination to take your loved one to, then have a look at what Spain has to offer. You will be spoilt for choice, with its romantic cities, parks and restaurants, or choose a beach destination where you will be able to enjoy sundowners on the beach, watching the sunset…You can even consider Spain when on a tight budget. See below our suggestions of romantic destinations and accommodation with Bungalowsclub.com.
Romantic getaway in Madrid:  
Madrid is perfect for a romantic holiday. It has beautiful parks, where you can enjoy a picnic, and a lovely stroll afterwards. There is a magic place, the Templo de Debod, an Egyptian temple which was dismantled and then rebuilt in Madrid. It is located on a hill and the best time to visit is late afternoon and at sunset. The light reflects in the water surrounding it, making it a really enchanting and romantic spot.  Another magic location is the Parque El Capricho, with its 18th century gardens. You will see numerous fountains, grottos, ponds and shrines. Not to be missed on a romantic day out. Madrid is perfect if you like walking around and enjoy its architecture, local restaurants and trendy boutiques.
You can stay just outside of Madrid, in a romantic cottage or bungalow.
Romantic beach getaway in Tarifa, Cadiz (Costa de La Luz):
Spain has so many beautiful and clean beaches with blue flags. They could all be the best one to take your loved one to…But the Playa de Bolonia is a good start if you are looking to find the best romantic beach in Spain. It is beautiful with its clear turquoise blue water, fine white sand and dune. There are well-preserved roman ruins to visit nearby and a good choice of restaurants to enjoy after a day sunbathing. It is also a great location to surf if you are looking for a romantic sports day out.
You can find a romantic beach cottage or bungalow in Cadiz here.
Romantic break with Hot Tubs:
Whether you spend the day on the beach or hiking with your other half in the mountains, there is nothing like coming back to your romantic accommodation and jump in a hot tub, with a nice glass of Spanish wine, or a cup of tea. The Cabanas do Barranco in Coruña could just be what you are looking for. They are nested in trees (6 m high), offering beautiful views from your terrace.  The Cabanas are also close to the sea, and you will have plenty of opportunities to enjoy the Galician cuisine.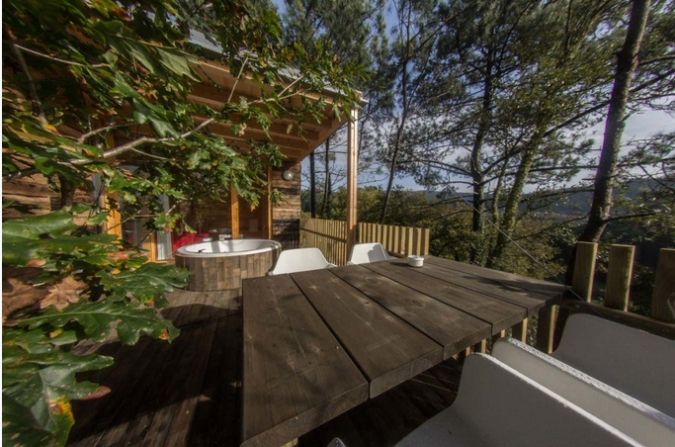 Or stay on the Costa Blanca, at the Bungalows Colina Home Resort. The bungalows are bright, spacious with stunning views and private terraces with Jacuzzis.
Find your perfect romantic accommodation with hot tubs here. 
Cheap romantic getaway options:
It is possible to enjoy Spain on a budget, and treat your loved one to an affordable but romantic experience. The best thing to do is to first select your accommodation carefully. Bungalowsclub.com has a great selection of self-catering accommodation such as bungalows by the sea or cabins in the forest. Because you are able to cook your own meals, you are saving on eating out all the time. There are plenty of activities that can be enjoyed, without spending (too much) money, such as hiking, horse-riding or cycling. If you stay away from the popular holiday resorts and look for traditional villages, you will be able to find local restaurants that are more affordable, serving traditional cuisine. And a romantic walk on the beach or in the forest is always free…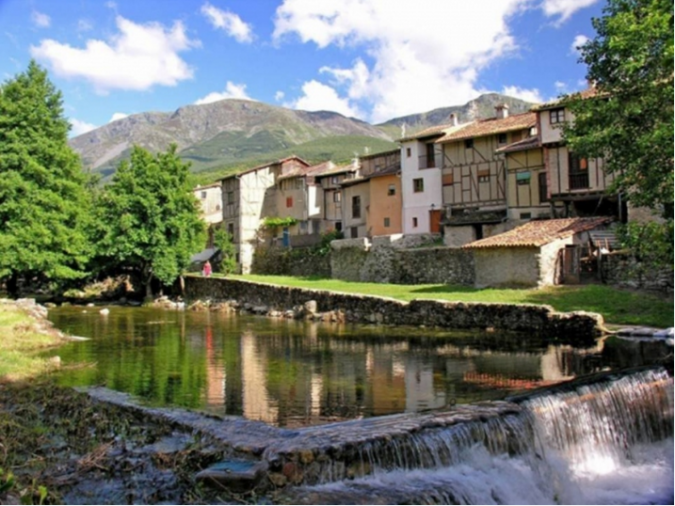 See the cheap but romantic accommodation options here. 
So for a romantic beach getaway or a romantic city break, a romantic accommodation with hot tubs, or even a romantic escapade on a budget, Spain and Bungalowsclub.com will have what you are looking for. Visit www.bungalowsclub.com to view all the accommodation options available.