If you are wanting to discover more places where to enjoy the best gastronomy, here we bring you the second post for a gastronomic break!
If you are going to Asturias and not drinking cider, is a crime! In the Principality in addition to eating well, eaten much. The Asturian dish par excellence are the beans and a variety of cheeses. The most famous is cabrales. Cachopo, pastel de cabracho, pixin, pitu de caleya (free-range chicken that grows in freedom) are other famous dishes you have to try Yes or Yes. And finally, rice with milk or casadielles for dessert.
Apartamentos La Searila is the ideal establishment to enjoy with your loved ones by Asturias ahead and book now!
In addition to its beautiful cities, its people and its art, the Andalusian gastronomy is one of the things that most attract tourists. There are many and rich dishes, but if we have to highlight one would be the gazpacho. The rich cold soup do not have to ask in any restaurant Andalusia!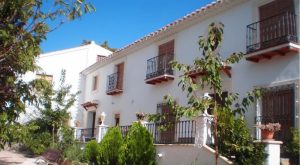 Among the more traditional dishes should highlight the salmorejo, clam soup, olive paté, potato aliñas, soup of asparagus, trout with ham, pipirrana, fried, stewed oxtail, Orza loin, grilled sardines, fish marinated and the pulley and we can not forget the famous fried fish! In Andalucía it is customary to order this dish. They are small fish which are coated in flour of almorta or wheat, and that are made in olive oil.
To make your vacation perfect, after eating rests our El Molino de Morillas, Al-Mudawar our Sol de Taberno.
These breaks are a pleasure for the palate! Are you going to tell that not?
Image Credits: Los Pomares – Turismo de Asturias, Turismo de Andalucía, El Molino de Morillas